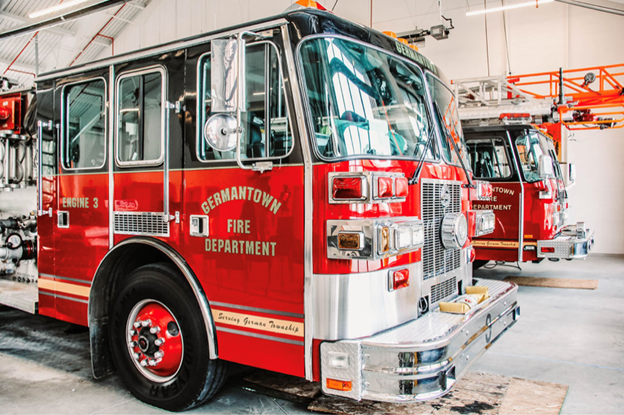 Germantown Fire Department
75 North Walnut Street
Germantown, OH 45327
(937) 902-7093 (Administration / Reports)
(937) 225-4357 (Regional Dispatch / Non-Emergency)
Fire Chief: Daniel Alldred
**EMERGENCY DIAL 911**
Overview
Historically, the beginnings of the Germantown Fire Department dates to December 28, 1832, when an ordinance was passed which authorized the appointment of two men to serve as fire inspectors. Four months later, a follow-up ordinance was passed requiring each household to be equipped with a leather fire bucket.
In May 1836, the Germantown Fire Engine and Hose Co. was organized to operate on a five-year basis. In November of the same year, another ordinance was passed requiring all able-bodied men and women to respond to fire alarms with their fire bucket.
Today the Germantown Fire Department provides fire prevention, fire suppression, and rescue services utilizing paid-on-call firefighters. We are allowed to be staffed with 28 members, including one full time position: Fire Chief.
Frequently Asked Questions
Sometimes, when someone is sick the ambulance will be followed by a fire truck or another Fire-EMS vehicle. Why?
Sometimes due to the nature of the EMS call for service additional vehicles may respond and the crews will assist the Medic crew. These types of calls may include cardiac emergencies, seizures, respiratory distress, among others. Typically the additional crews will assist with getting cot to patient, setting up needed supplies or help getting equipment to and from the house.
Why do Fire-EMS vehicles block traffic lanes at auto accidents, sometimes more than it looks like is needed?
The safety of our First Responders and patients while working a crash scene is of upmost importance. The blocking of lanes protects not only the First Responders working on the street but also protects the victims that we are providing emergency care to. Working a motor vehicle crash on the street is one of the most dangerous scenes your Fire-EMS personnel have to work in.
Why is Open Burning so regulated and restricted?
Open Burning can release many kinds of toxic pollutants and when leaves and plant matter are burned this can send millions of spores into the air we breathe causing many people with health problems to have difficulty breathing. Open Burning is particularly dangerous in the Spring and Fall when leaves are on the ground, the grass is not green and the weather is warm and dry with blowing wind conditions. Contact Germantown Fire-EMS Department for an Open Burn packet which is provided as a courtesy to inform our citizens of Ohio's Open Burn Laws.
What can I do to help first responders locate my home in an emergency?
During your emergency, response time of First Responders is crucial. Sure we can see the column of smoke coming from a structure fire-but we can't see your heart attack or difficulty breathing. Searching for an address may cost time you don't have. Making your address clearly visible from the street and providing the necessary access required for larger Emergency vehicles to get down your driveway or lane helps get First Responders to the scene without unnecessary delays.
If I call 911 for an ambulance what hospital will Germantown Fire-EMS transport me to?
Residents who call 911 for Emergency Medical Services should expect to be transported to Sycamore Emergency unless there are extenuating circumstances that dictate where GFE transports patients based on state mandates. Sycamore Hospital is where our Medical Director is on staff and is the closest hospital for the majority of our call volume. Transporting to Sycamore Hospital provides the patient quicker access to hospital care and provides for shorter out of service time for 911 ambulances serving our Germantown/German Township community.
Does the Fire Department accept household hazardous waste?
No. Household Hazardous Waste can be disposed of at Montgomery County Solid Waste District's Moraine Transfer Station Facility located at 1001 Encrete Lane. Accepted materials may be dropped off Tuesdays and Saturdays from 8:00am-2:00pm.
History
1832

Ordinance are passed authorizing two fire inspectors and requiring each household be equipped with a fire bucket.

1835

Village council with subscription monies purchases first fire apparatus. Ordinance passed requires all able body men and women to respond to fire alarm calls.

1836

Council turns over use of fire apparatus and Engine house to Germantown Fire Engine & Hose Company.

1869

Purchase of Fire Bell to ring out alarms in the community-replaced with electric siren in 1925.

1873

Purchase of Button Hand Pump engine.

1888

Devastating fire in business district downtown, causes Council to purchase Ahrens steam engine for better fire protection.

1902

Camp Miami Military Institute suffers fire loss of $50 Thousand.

1924

City water system installed and first fire hydrants used along with first motorized apparatus-Model A Ford chemical unit.

1948

Rural fire protection to German Township by subscription begins with purchase of John Beam Hi-Pressure pumper on Studebaker chassis.

1953

Fire station constructed with Village Hall on North Walnut Street.

Germantown Rescue Squad formed-beginning of EMS care for Community.

1964

Delivery of 1964 American La France 75' Quint.

1967

Associated Paper Company along with tobacco warehouses burn causing an estimated $1.5 million dollar loss.

1985

Addition of metal pole building at fire station to accommodate growing number of fire apparatus.

2007

Germantown Fire Department merges with Germantown Rescue Squad to form present day Germantown Fire-EMS Department. Comprised of full time Chief, part-time and paid on call personnel responding to calls for Fire & Emergency Medical Service.

2020

City Hall moves to 1 North Plum Street and new construction and remodel takes place for new Public Safety Building at 75 North Walnut Street.