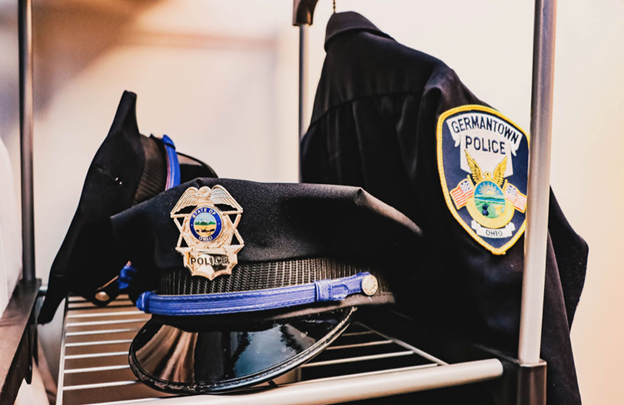 Germantown Police Department
75 North Walnut Street
Germantown, OH 45327
(937) 855-7271 (Records)
(937) 855-6567 (Regional Dispatch / Non-Emergency)
**EMERGENCY DIAL 911**
Officer Complaints
The Germantown Police Department wants to ensure that procedures to register complaints involving any Germantown Police Department Police Officer or staff member are followed up in a timely manner by a Command Staff officer.
"Outstanding Service" is a cornerstone of our Departmental Mission Statement, and all suggestions for improvements, concerns, or questions as to how a complaint was handled are important to our agency. Procedures for complaints are outlined in the Germantown Police Department Complaint Brochure that is contained on this website. Listed below are ways to communicate your concerns to our agency:
Fill out a Germantown Police Department Officer Complaint Brochure, and either drop it off or mail it to our department at 75 N. Walnut St., Germantown,
Contact the Germantown Police Department by telephone at (937) 855-7271 between the hours of 8:00 AM and 4:00 PM weekdays, or call (937) 855-6567 which is the Montgomery County Regional Dispatch Center which dispatches for our department after business hours. Your complaint or concern will be passed along to the appropriate supervisor.
Officer Recognition
Since the Germantown Police Department Mission Statement states that we are committed to "Highly effective law enforcement, and outstanding service," citizen cooperation and input are essential if the department is to succeed in reaching our goal of providing outstanding service.
It would be beneficial if we could be provided information where a member of our department has provided outstanding law enforcement service that you believe meets the criteria of our Mission Statement. It would be of great help to the Police Department Administration if you would take time to fill out the requested information on the Germantown Police Department Officer Recognition Brochure, and either email the form, or drop it off at the Germantown Police Department between the hours of 8:00 AM and 4:00 PM, weekdays.
Frequently Asked Questions
How can I reach a Germantown Police Officer?
The Germantown Police Department is dispatched through the Montgomery County Regional Dispatch Center at 937-855-6567.
What is the maximum amount of time I can let a car sit on the street?
The maximum parking time for a vehicle on the street in the City is 48 hours.
How can I get a copy of a police or accident report?
Copies of police or accident reports can be obtained from the Germantown Police Records Office. The office is open Monday through Friday 8am to 4:30pm. If you have any questions regarding copies of reports please call the office at 855-7271